Description of the Bay Creek Neighborhood
Bay Creek has been called one of Madison's better kept secrets, and is the least known of the centrally located neighborhoods. Yet it is rich in recreational resources, is in a great location with easy access to downtown and the east and west sides, has affordable housing, offers a unique mix of shops and restaurants, and experiences little crime. We're not without our problems though, and we'll examine some of these, and the makeup of Bay Creek below.
Recreational Resources
Bay Creek boasts two of the most natural, beautiful, and largest parks in Madison: the University's Arboretum at the west end of the neighborhood and Olin-Turville park at the east end. Within these two parks are many miles of hiking and skiing paths.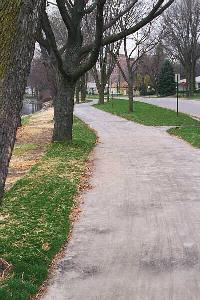 The Wingra Creek Path at the south end of the neighborhood connects the two parks and runs beside Wingra Creek. This links up to the path around Lake Monona (which links to the Capitol City Trail) and Arboretum Drive, and is a great recreational resource.
Madison's first city pool provides summertime fun for kids and adults.
Monona Bay (at the north end of the neighborhood) is a popular spot for swimmers (at Bernie's Beach), boaters, ice skaters, fishing enthusiasts, runners, rollerbladers, walkers and bikers.
We are literally surrounded by recreational resources!
Great Location
Bay Creek's excellent central location affords easy access to most parts of Madison. For example, natural food consumers have the luxury of choosing between the Willy Street coop on the near east side and Whole Foods on the near west side, both about ten minutes away by car. The Capital Farmer's Market, the South Side Farmer's Market, UW-Madison campus, Vilas Zoo, and State Street restaurants are all about fifteen minutes by bike or just a few minutes by car. Some of Madison's nicest views of the Capital and our downtown skyline are from Bay Creek, including "Magic Street", a nickname for a street that as you travel down it towards the Capital, the Capital appears to get smaller!
Shops and Restaurants
There's a nice mix of unique shops and restaurants right in the neighborhood. Cargo Coffee is a sunny coffeeshop with a drive-thru if you're in a hurry, Lakeside Street Coffee House has a focus on sustainability and a great view (and now wine and beer, too!), Barriques offers coffee, wine, and a little beer, the Bang Gals offer haircuts, highlights, and socially concious products, Quintessence has homeopathic remedies and more, Nutzy Mutz & Crazy Cats carries pet products, Heartpath Acupuncture Center offers bodywork, and there are several ethnic restaurants on Park Street.
Affordable Housing
Relative to the rest of Madison, housing prices are reasonable. Much of Bay Creek's housing was built between 1890 and 1940, and many lot sizes are 50 by 100 (very little gutter-to-gutter housing here).
Low Crime Rate
According to the Wisconsin State Journal (which drew it's data from Madison Police records), Bay Creek has one of the lowest violent crime rates in Madison. In fact, Bay Creek has the lowest violent crime rate of any neighborhood that lies within two miles of the capital. Unless you live in Bay Creek, this is probably not your perception. Our violent crime rate is most similar to Nakoma.
But...
Having said all that, Bay Creek is not without its drawbacks and problems.
Recreational Resources: An unnatural abundance of weeds and algae in Monona Bay and Wingra Creek greatly reduce their attractiveness and usefulness.
Streets: Park and Fish Hatchery streets are noisy and so busy it's difficult to cross them during rush hour on foot or by bike. Gilson Street is used as a shortcut through the neighborhood. There are several businesses along Park and Gilson streets whose physical appearance could use improving.
Theft: Seems like about once per year, someone on the neighborhood email list reports that something (often a bike) was stolen out of their unlocked garage. People will rummage through unlocked cars, garages, and moving vans. This is a problem in all Madison neighborhoods, so lock up, people!
Involvement: City Community Development Block Grant targeted neighborhood funding in 1989 provided the impetus for forming a neighborhood association in 1990. While there is a strong core of neighborhood volunteers in the Bay Creek Neighborhood Association, we could do more. We welcome volunteers... as more people volunteer their time, we accomplish more projects that benefit the neighborhood.
Identity: Identifying our location in Madison is difficult. Some put us on the south side. Some say we're in central Madison. The city tends to think we're on the west side, and the Isthmus' Annual Manual claims we're on the east side! What do we think? We like to refer to this area as the near south side, just as there is a near east side and a near west side.
Who Lives in Bay Creek?
Residents are quite diverse. In 1990, Bay Creek had one of the highest elderly populations in the city. But more recently younger families are tending to move here, so there's now quite a mix in ages. University and State employees live here because of the convenience to downtown. A few UW students choose to live here. Bay Creek has one of the highest populations of gay men in Madison. White collar/blue collar, daily Copp's shoppers/CSA subscribers (Shooting Star and Harmony Valley farms deliver to Bay Creek), and people from all parts of the economic spectrum all make up this diverse neighborhood. You can figure out our political makeup by viewing the results of an election by precinct; we are Ward 69.
Other Resources
If you want to learn more about the neighborhood than this brief description offers, see the other web Publications, browse our Calendar, and check out our ongoing and short-term Projects. Also available for loan from the South Madison Branch Library is a video entitled South Side Frolics, Stories from Monona Bay to Wingra Creek. This was the result of an intergenerational program in 1998.
[ Home | Publications | Calendar of Events | Projects | Contacts | Sites to Visit ] ~ [ site map ]
---
Webhosting donated by